20 May

ATL Black Tech Planning Update: 05.20.17

It's been two weeks since the 2017 State of the Atlanta Black Tech Ecosystem where we stated the objective was to develop a community-led initiative to improve the quantity, quality, and connections of blacks in the larger Metro Atlanta tech ecosystem.

The initiative's codename is Intentionality (Credit: James Andrews during a 2016 Startup Atlanta panel on diversity and inclusion in tech). 

In two weeks, we done the following:

+Launched a temporary website with the ability for people to submit ideas (Credit: Justin Dawkins)
+Launched Atlanta Black Tech Slack (110 members) and Facebook (253 members) groups
+Developed Auto-Invites and a Welcome Bot for Slack (Credit: Will Madison)
+Designed several logos (Credit: Marlon Avery, Maya Lewis, and Mark Montgomery)
+Started a Google Spreadsheet to list Atlanta Black Tech assets

By Memorial Day, we'd like to have:

+Have the Asset spreadsheet 50% complete
+Organizing, Development/Design, Marketing, and Accountability teams in place
+Education, Social, Financial, Physical, Service Provider, SMB/Social Impact, Startup, & Corporate community managers in place

By July 4th, we'd like to:

+Have the Asset spreadsheet 100% complete
+Start executing on the 2017 Q3 Action Plan
+Have a permanent website with a dope UI, blog, and member listing
+Start work on turning the Asset Spreadsheet into an actual database where users can contribute and search
+Have Atlanta Black Tech Family t-shirts designed and ready to order

The Action Plan

As stated at the event, the Atlanta Black Tech ecosystem is huge, and many parts need to be addressed. By combining the six asset classes with the top four (4) communities, our action plan will be categorized like this: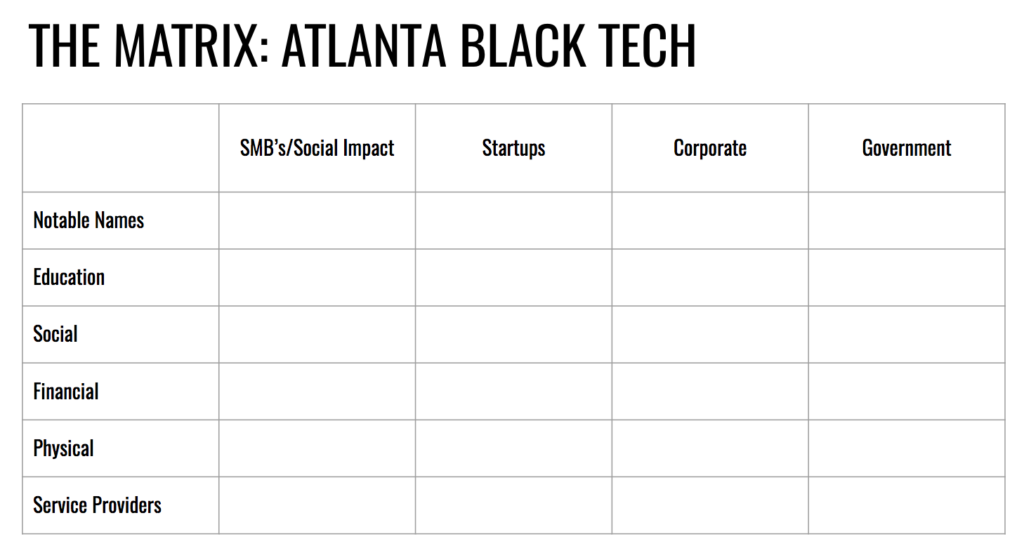 Eventually, we'll have 2-3 action items for each cell. Until well, we'll focus on 9-12 cells and leverage existing assets before creating new ones. And we're calling on all members of the tech ecosystem to help us craft the strategy.
It's time to be intentional, y'all.